Chris Pontius
Birth name
Christopher Andrew Pontius
Born
July 16, 1974
Birthplace
Pasadena, California, U.S.
Nationality
American
Aliases
Party Boy, Chief Roberts, Bunny The Lifeguard, Bunny

Jackass Career

Roles
Cast
Film
Jackass Pentology
Seasons
1, 2 and 3
Known for
Party boy japan

Wildboyz Career

Roles
Presenter
Seasons
1, 2, 3 and 4
Chris Pontius
is an American entertainer and daredevil. Pontius is a core member of
Jackass
and, along with
Steve-O
, co-host of
Wildboyz
.
Pontius grew up skating on his family's ranch in San Luis Obispo, California. He first appeared in the second issue of Big Brother riding a skateboard down a handrail. Issue #8 featured an interview with Pontius and saw his first public appearance in the nude, when he was still under the legal age of 18. In Issue #9, he wrote an article titled "18 Ways To Be An Asshole".
Pontius worked for Big Brother until 1999, when he was fired for not showing up for a tour without notice. After parting ways with Big Brother, he drifted from job to job, including stints at Jamba Juice and working as a temp for Charles Schwab. After several months, he returned to the magazine with an article titled, "Life After Big Brother", telling of his misadventures in the 9 to 5 world. At some point, as revealed by an episode of MTV Cribs, Pontius had gotten as far as to live in a Toyota Tacoma pick-up truck. He joined Big Brother editor Jeff Tremaine and contributor Johnny Knoxville with the Jackass crew in 2000. On Jackass, Pontius often went by the monikers "Bunny the Lifeguard", "Party Boy", "Chief Roberts", "Roller Bobby", "Pontius the Barbarian", "Mr. America", "Garbage Man", "Dutch Girl", "Satan", and "Bear Johnson (The Alaskan Porn Sensation)". After Jackass ended, he starred in Wildboyz on MTV and later MTV2 with Jackass alumnus Steve-O. He Also had a Couple of Voiceings for the Famous Skill Country which he only Guest Star in about 4 Episodes.
Public nudity
Edit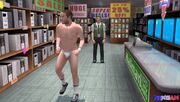 Pontius' trademark style consists of either a male pouch thong and a bow tie, or a headband and belt (being otherwise nude), which he attributes to a favorite pastime as a kid where he and his brother would play "naked natives," scaring houseguests wearing nothing but a belt. Pontius has used the naked native motif to run alongside animals in Wildboyz. He also appears nude in numerous Jackass stunts, including "Playgirl Pontius", in which he poses in various positions for photographs as an audition for Playgirl magazine completely naked. One of the said photos also hangs in director Jeff Tremaine's office, directly behind his desk. It was put up by Pontius himself, during the filming of the first Jackass film in 2002.
Personal life
Edit
Pontius was married to Claire Nolan on October 29, 2004 and separated as of 2009. He is a vegetarian.
Filmography
Edit